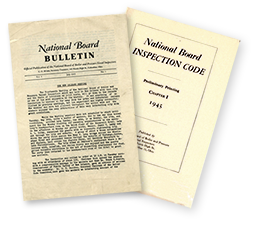 The Publication Era
An objective of the National Board was and is to gather and provide information regarding the boiler and pressure vessel industry.
In 1943, C. W. Obert and C. O. Myers printed the first BULLETIN, a publication that is a staple of the National Board. Today, the BULLETIN is in its 76th year of publication, continuing to relay industry news and information to its subscribers.
In 1945, the National Board published the first chapter of the National Board Inspection Code (NBIC). In its current edition, the NBIC provides rules and guidelines for the installation, inspection, repair, and alteration of boilers, pressure vessels, and pressure relief devices. The NBIC became a national standard by the American National Standards Institute (ANSI) in 1983.
1940s